OK guys, if anyone has bought the type of struts that were mentioned on here a couple of weeks back, or you're thinking about buying them. you need to read this!!
(This warning applies to the type that bolt to the bonnet hinges. There are other types that bolt to the bonnet insulation pad fixing points, I can't comment on these, but as they bolt to thin sheet metal not designed to handle loads, I'd expect them to cause fatigue cracking in short order, they may even bend the inner skin against the outer over time and give you a dented bonnet!).
The hinge mounted struts look like a neat solution on the face of it, as the hinges are structurally heavy, so you assume this is a good idea, it's not! The following is why:
1, Strut quality, this may not be the case for all of them, but at least the ones I bought, looked like this after the bonnet has been opened and closed only half a dozen times or so. The mounting ends are breaking away from the captive tread on the strut: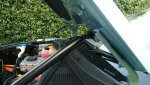 I might just have got a bad set, but the next two issues make these an absolute no no!
2, When the bonnet is open, the struts are, of course, exerting force on the hinges to hold up the bonnet. The problem is the amount of force needed to start the bonnet closing causes a disturbing amount of flexing between the sheet metal of the bonnet and the hinge in the areas as shown below. This is due to the bonnet sheet metalwork being designed for manual lowering, expecting no resistance against it from the hinge, so it doesn't have any reinforcement to cope with it. I am convinced you will get stress cracking in the area I've shown before very long, using these struts.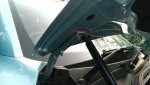 3, With the bonnet closed, the struts are retracted to minimum length and therefore under maximum pressure. This is exerted against the bonnet hinges. The result is they, or more likely the mounting point metalwork is flexed causing the bonnet alignment to go to s**t and lifting the rear of the bonnet up several millimetres against the panel behind it. Again, potential long term fatigue damage aside, it just looks terrible!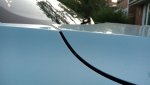 I've now removed mine and thrown them away! Thankfully they weren't on long enough, or used enough to cause any damage. I hope this is useful to everyone. But I now don't believe there's a straight forward bolt on strut retrofit that can be made to work successfully on our cars.
Here's the set in question, so please avoid them, they show a different set and mounting in the pictures, but that isn't what you get!
Last edited: