This may be of interest to us all...
Due to the wife's car being in the way and as I'm too lazy to swap things around, I'll often just pop my car on the 13A outside socket and granny charge it rather than use our 7kW point.
I've done this maybe a total of 20 times over the last 7 months. As the car has usually finished charging when I unplug it, I'd not noticed until the other day that the plug gets immensely hot and has heat damaged the socket outlet.
I assumed this was down to the socket being a cheaper brand, British General. So changed it out for a Schneider that cost 3 times more! An hour later, checked it and the plug and socket are scalding hot!
So I autopsied the cheap socket, and found it was actually fine, contacts are still all like new and don't look like the source of the heat build up. The heat is coming from the Live pin on the moulded plug, so I suspect there is a high resistance connection in the plug.
I've yet to do it, but I'm going to cut off the moulded plug and fit a quality replacement. I'll do an autopsy on the moulded plug to see what the issue is and report back. In the meantime, be careful when using you grannies! Keep an eye out for any heat build up.
Piccies:
Heat damaged faceplate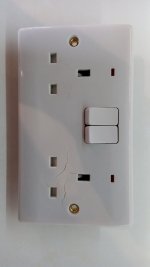 But the contact surfaces in the socket are very good, the issue seems to be caused by Grannies plug